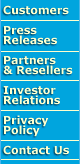 FOR IMMEDIATE RELEASE

CONTACT:

Michael McAlpin
Phone 407-616-3554
Fax 719-623-2009
mmcalpin@netyak.com
http://www.netyak.com
netYAK.com signs WebConnection.Net as an Alliance Partner
WebConnection to promote and sell netYAK's web-to-phone Service in conjunction with its own web design and multi-media presentation business.

Orlando, FL, July 7, 2000 – netYAK.com has recently signed a noted Florida East Coast web design company, WebConnection.Net, as an Alliance Partner for the netYAK™ web-to-phone Service. As an Alliance Partner, WebConnection, will promote and sell the netYAKä Service, expanding its capability to provide full service e-commerce solutions to its customers. "We at WebConnection are excited about our part in assisting to bring forth the next generation of Internet communications. Our alliance with netYAK will enable our e-commerce clients to open up the next level of Internet service, which is that personal touch directly from the web, helping to satisfy the ultimate customer. Working with the professionals at netYAK to solve e-business communications is fun, rewarding and profitable", said Richard Martin, President of WebConnection. "Having WebConnection as an Alliance Partner will greatly enhance our ability to reach high profile e-business customers with our netYAKä Service, while mutually beneficial for the business prospects of both WebConnection and netYAK.", stated Malcolm O'Toole, netYAK's Chief Operating Officer.
About WebConnection
WebConnection, a privately held Florida Corporation, was established in 1998 to provide the highest quality web site development and multi-media presentation solutions. Using a team development philosophy has allowed WebConnection to develop over 100 web sites, each unique in its theme and each customized with a purpose. Boasting a Microsoft Certified Systems Engineer, an Animation and Audio Specialist, a Creative Graphics Design Specialist, an Award Winning Photography and Print Specialist and 20+ combined years of Marketing experience ensures the production of a web site exceeding the customer's expectations and desires. This is achieved by continued consultations throughout the development process, including design, marketing strategies, and site management, conducted by a friendly yet professional WebConnection team.
www.w-c.net
WebConnection.Net, Inc.
P.O. Box 3151
Satellite Beach, FL 32937
Phone: (321) 777 3490
e-mail: design@w-c.net
About netYAK
netYAK.com inc. develops services that deliver voice content on the Internet. The Company's first offering, the netYAK™ Service, enables a web site owner to receive phone calls from anyone's PC, anywhere on the Internet. This patent pending service delivers digital cellular quality phone calls using Voice over Internet Protocol (VoIP) technology.
netYAK.com, inc., a privately held Florida Corporation, was established in 1999 to deliver the best form of communication, the human voice, to e-businesses. The simplicity, effectiveness, and privacy of the netYAK™ Service significantly enhances the use and growth of e-commerce, whether in business-to-consumer (B2C), business-to-business (B2B) or customer relationship management (CRM) environments.
netYAK.com, inc.
P.O. Box 2408
Orlando, FL 32802-2408
Phone 407-616-3554
FAX 719-623-2009
Contact: Michael McAlpin, mmcalpin@netyak.com
###